Descripton
EvoEstate comment:
We like this project due its small risk and quite high expected return close to 10%. Global tourism grows and at the same time Airbnb licenzes tightens in European Cities (Barcelona and part of Valencia is already limited). Brickstarter does a good analysis of data before making a purchase. With proffesional Airbnb management, returns are better as shown in AirDNA. Gross rental yield for this is expected above 11%. With such Gross return, the property is likely to be exited at desired price for individual investor.
*estimated returns include 19% Spanish tax withholding. (you do not have to pay income tax on your investment in your home country)
** The rent (dividents) on this property starts to pay after the apartment renovation is completed and it is rented out on AirBnb and booking.com, therefore expect a delay of payments between 1-3 months.
Brickstarter comment description:
We have spent a lot of time studying Seville, a city that we love, beyond its charms, high income and little seasonality. We spent months planning the landing in the city with the largest historical center in Europe, and looking for an opportunity, until we have found it!
Perfectly located in the Old Town, the one with the greatest condensation of urban historical attractions and monuments of Seville. The tenants can approach on foot, not only to the main attractions of the city (such as La Catedral, La Giralda, Plaza de España, El Real Alcázar, etc ...), but to the main neighborhoods, such as the Barrio de Santa Cruz, or even Triana, and even the main shopping streets, such as Calle Sierpes, Tetuán, O'Donell-Velazquez, Calle Cuna, etc ....
In this case we have opted for a small apartment, very bright, with one bedroom and one bathroom, space for up to 4 people, perfectly located in the District with more income in 2018 and higher occupancy percentage: "Casco Antiguo"
It is very important to study the market study well, because it will allow us, not only to increase revenues, but to reduce the seasonality of our portfolio.
Project summary
We are facing our first opportunity in Seville and it is an excellent one due to several reasons:
First, Seville is the third capital of Spain with the highest number of overnight stays, with the largest old town in Spain. Since the beginning of the year it has broken several historical records, such as the reception of tourists. Its airport, the fourth bigger in the peninsula has also beaten historical record of passengers in April, being the one that grows the most in Spain, with an improvement of 21% when compared to 2018. Seville is fashionable.
For the location of the property. Not only for the fact that it is in Seville, which will allow us to reduce the temporality of our portfolios, and invest in one of the cities with better prospects in terms of holiday accommodation, but for the neighborhood in which it is located. Located in the "Old Town" of the city, it is the postal code (together with the 41001) with more average income per apartment and less seasonality. And it is not surprising, since it is the district that brings together the main monuments of the city.

Apartment typology. As we can see in the market study, it is a type of real estate, not only highly demanded, but also showing solid ratios with a clear upward trend.

The house, although in a very good condition, will be updated, with what we will add an extra value layer, which will also allow us to achieve an easier sale.
The house has a fabulous Andalusian patio, which in addition to giving much charm to it, is in perfect condition. In it, you can enjoy your terrace, and so the good weather that the city offers.

The apartment is very bright and has natural light in every room.
Regarding the financial operation, we can affirm that it is an excellent investment opportunity that offers high profitability and high monthly returns.
Operation Summary
| Concept | Value |
| --- | --- |
| Purchase price of the property (including renovation) | 150.450,00 € |
| Mortgage | 0,00 € |
| Cost of initial works | 13.000,00 € |
| Taxes, paperwork and other initial legal costs | 0,00 € |
| Company Constitution and Registration | 0,00 € |
| Other property acquisition costs | 4.450,00 € |
| Other expenses | 0,00 € |
| Minimum cash | 600,00 € |
| Brickstarter Fees (Only purchase) | 10.157,95 € |
Revenues forecast
| Concept | Value |
| --- | --- |
| Yearly rent income | 20.481,75 € |
| Amount to be received for the sale | 205.456,64 € |
| Gross Margin (Sale Price - Purchase Price) | 15 % |
The data shown in this section is a one year forecast after the property purchase
Dividends
| Concept | Value |
| --- | --- |
| Total dividends accrued | 0,00 € |
| Dividends paid | 0,00 € |
| Dividends in portfolio | 0,00 € |
Operating return
| Income | Value |
| --- | --- |
| Rental income | 20.481,75 € |
| Expenses | Value |
| --- | --- |
| Brickstarter Commission | 1.249,57 € |
| Management | 6.144,53 € |
| Supplies | 1.560,00 € |
| Annual Property Tax | 281,50 € |
| Total expenses | 9.235,60 € |
| Other amounts | Value |
| --- | --- |
| Amortization | 177,00 € |
| | |
| --- | --- |
| Operating return . | 11.069,15 € |
Financial results
Net profit
| Concept | Value |
| --- | --- |
| Result before tax (Operating result + Financial result) | 11.069,15 € |
| Taxes | 1.660,37 € |
Investment information
| Concept | Value |
| --- | --- |
| Revaluation of the property | 15,00 % |
| Current value of the property | 178.657,95 € |
Occupation
| Concept | Value |
| --- | --- |
| Number of reservations | 59 |
| Occupancy rate | 64,43 % |
| Booked days | 235 |
| Available days | 120 |
| Blocked days | 10 |
| Average Daily Rate | 87,09 € |
| Estimated annual income | 20.481,75 € |
| Customer satisfaction rating | 90,00 % |
| Number of guests | 294 |
Market study
In this case we have opted for Seville, without a doubt, one of the most important Spanish capitals in terms of tourism, as we can see from the income data and occupancy rates, both at an aggregate and medium level.
Likewise, as we can see, it will help us to minimize the aggregate seasonality of our portfolios, since the months of highest income are not the summer months, as in other cities of this country.
First, we have analyzed different locations. In this case, after analyzing the different neighborhoods, we have opted for codes 41001 and 41004, the best in terms of income and occupation, and with a clear upward trend.
Once the location was determined, we wanted to carry out a study of the different types of dwellings, seeing their main differences, in order to choose the optimum one.
By doing a study of income and seasonality by occupation and number of rooms, we have decided in this case, to opt for a "one bedroom and one bathroom" apartment, with a maximum capacity of up to 4 people. A very common disposition, but the one that shows solid ratios with a constant growth.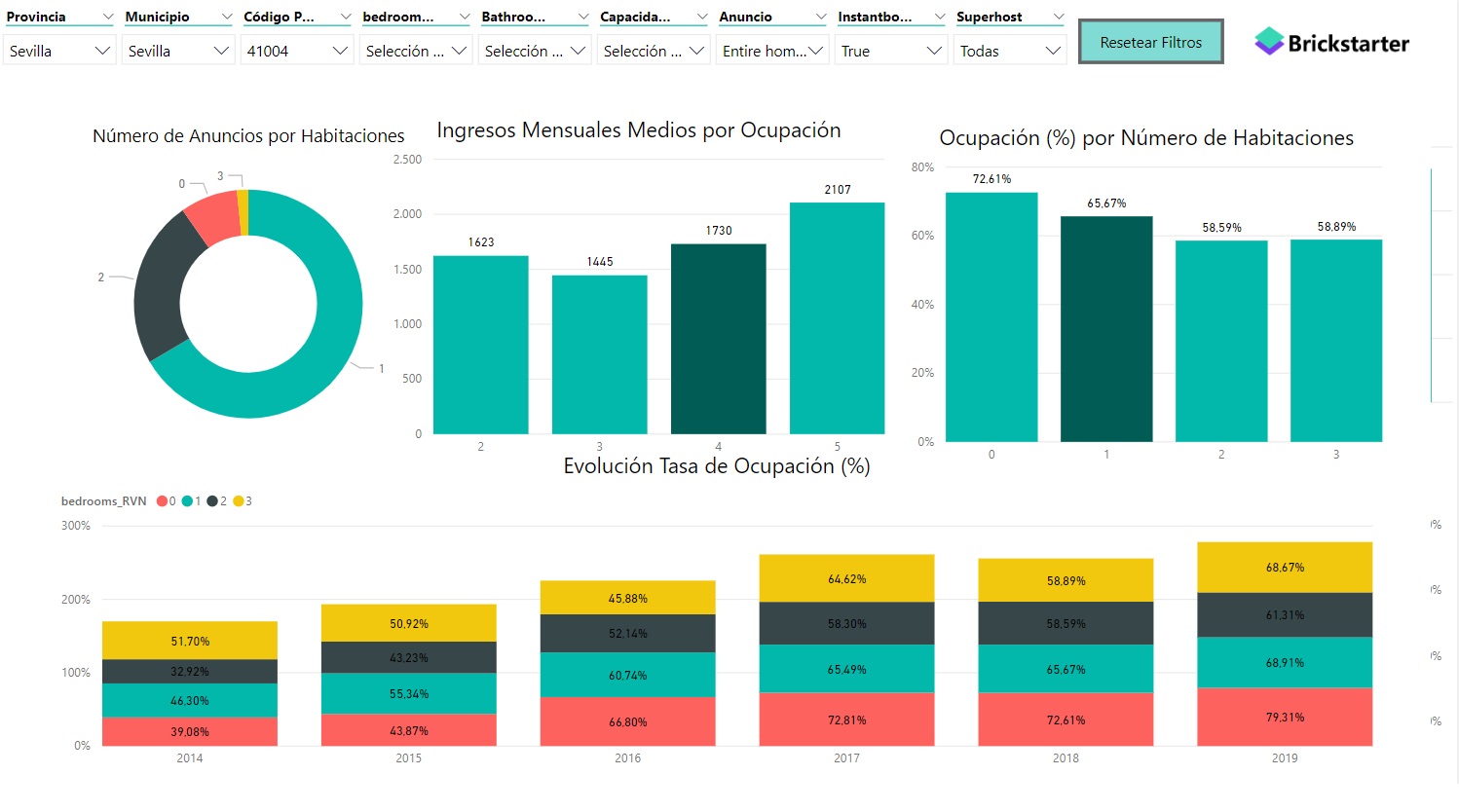 If we continue in our analysis and restrict it exclusively to this category, we obtain the following metrics (the ones we will use for our business plan)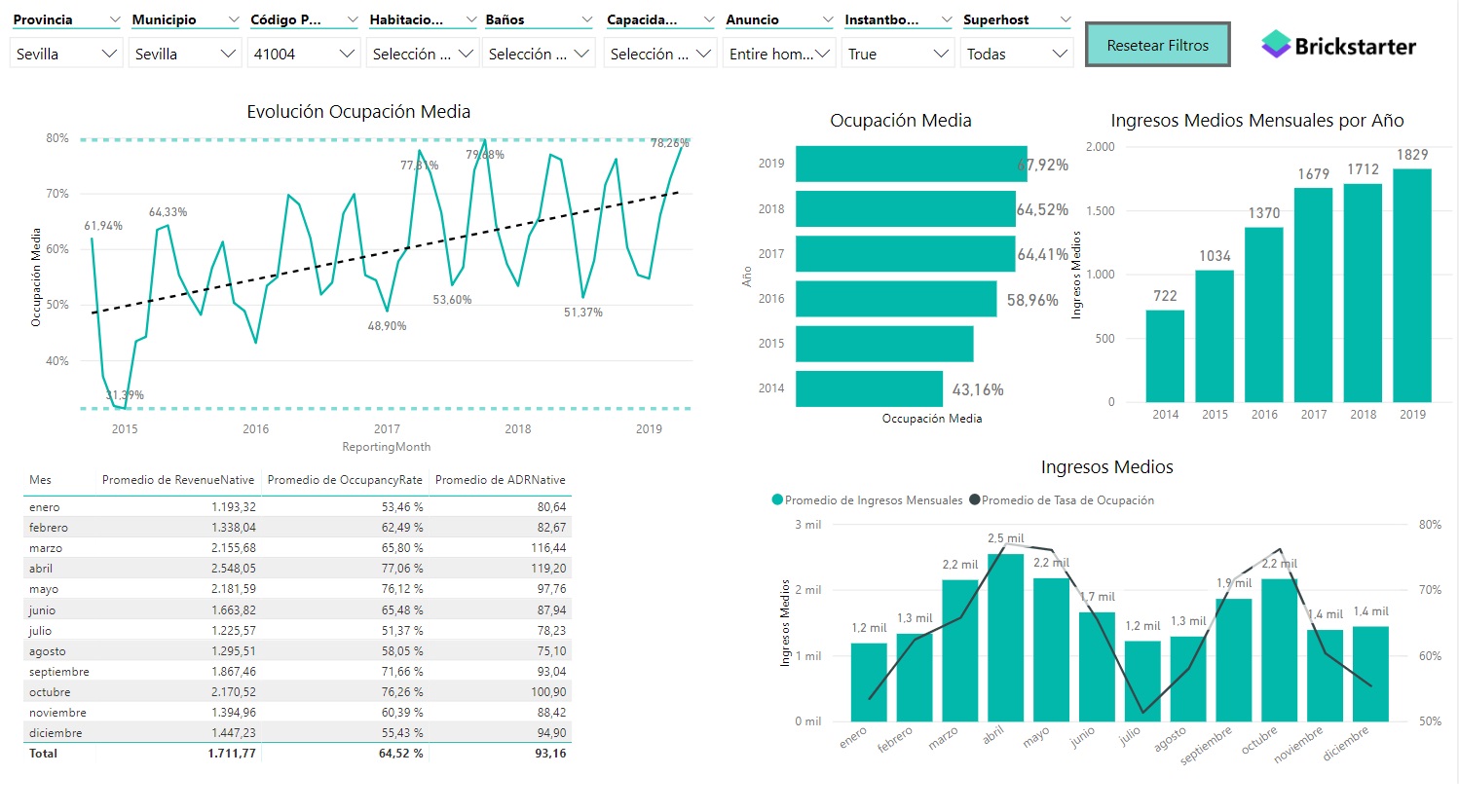 As we can see, it is interesting that the weakest months of the year are the summer months. Obviously, this is a cause of the high temperatures of the city in those months. This will allow us to achieve high incomes, with a temporality different from what we have seen in opportunities such as Cádiz, Valencia, Málaga or Alicante.
Finally, we must bear in mind that the acquisition price of this opportunity is slightly below the market price, which allows us to optimize profitability and ensure a next sale, after putting it in value with the reform, decoration and the transformation into a tourist apartment.
Project originated by:
Collateral
SPV (limited liability company that has only one apartment and collects rent from Airbnb) who whichs ownes the unit. Total protection for investor. No bank loan.
Documentation