Descripton
EvoEstate comment:
Due to technical update, we were only able to obtain a very small position of 2600 euros. For this reason we are reducing our standard allocation of 1000 euros per skin in the game deal and assigning this project to other projects.

* The rent (dividents) on this property starts to pay after the apartment renovation is completed and it is rented out on AirBnb and booking.com, therefore expect a delay of payments between 1-3 months.

** The funding process was already completed, therefore once you invest, this investment will become active.
Brickstarter: Why invest in this apartment?
Highest Profitability Rate (IRR) = 10.65% Recurring income plus goodwill with its sale.

High profitability Cash on Cash: High monthly recurring income: 5.38%.

We add value through a reform: so that future sales are facilitated.

Typology: small apartment: The one with the highest occupancy rate, and with the greatest projection.

Excellent location: The most demanded neighborhood and with less seasonality.

Exterior floor with two large balconies: Spacious and very bright.
Information about the apartment
We return to Alicante!
A little over a year ago Brickstarter landed in Alicante and to celebrate it we launched another opportunity in this same city.
The Costa Blanca is the tourist area of ​​the country where a greater number of Spaniards are concentrated in the month of August 2019, with 336,418 travelers and almost 1.3 million overnight stays.
The hotel sector of the Costa Blanca has followed the trend of increasing employment like those of Benidorm and have closed August with an increase of 2.2 points over the same month of 2018 to reach an average of 92.2%.
In the Valencian Community, Catalonia was surpassed as the region preferred by the Spaniards to enjoy their summer vacations.
Data from the National Institute of Statistics (INE), indicate that the weight of autonomy in the whole country grew to 14.1% of all Spanish tourists, three tenths more than a year ago.
Therefore, we launched this opportunity in the historic center of Alicante just 200 meters from the beach.
It is a property with one bedroom and one bathroom, with capacity for four guests, but as we detailed in the market study, it is the type of property with the highest demand and projection.
Project summary
The apartment is completely to reform, so it will be like a blank canvas to design it perfectly for tourists.
The property initially has a separate room near the bathroom, a small kitchen and a living room. We have projected the idea of ​​opening the kitchen to the dining room to make both rooms more spacious and expand the bathroom giving it part of the closet of the room.
In addition, there are other reasons why the property is an excellent investment opportunity:
This house will have a great potential for revaluation, since we will completely reform it. That will attract a lot of guests and will be an increase in value at the time of the subsequent sale.

The property is located in the historic center of Alicante, this will allow guests to visit the main monuments taking a pleasant walk.

Likewise, the postal code 03002, is the area with the lowest seasonality, and the highest daily income for all types of real estate.

It is a one-bedroom property with a bathroom, with a maximum capacity for 4 people. It has an entrance hall with two elevators. As we have seen in our market study, it is a highly demanded typology in Alicante, and it shows employment and income ratios with a clear upward trend.
Operation Summary
| | |
| --- | --- |
| Concept | Value |
| Purchase price of the property (inc. Reform) | 123,420.00 € |
| Mortgage | 0,00 € |
| Initial works cost | 23.000,00 € |
| Taxes, paperwork and other initial legal costs | 0,00 € |
| Constitution and Registration Society | 0,00 € |
| Other costs of Acquisition of the property | 3,630.00 € |
| Unforeseen | 0,00 € |
| Safety deposit box | 600,00 € |
| Brickstarter Fees (Purchase only) | 10,893.63 € |
| TOTAL | 161,543.63 € |
| | |
| --- | --- |
| Concept | Value |
| Annual rental income | 17,932.97 € |
| Amount to be received for the sale | 193,852.36 € |
| Gross Margin (Sale Price - Purchase Price) | 20% |
Financial information
The data shown in this section is a one year forecast after the property purchase.
Dividends
| | |
| --- | --- |
| Concept | Value |
| Total dividends accrued | 0,00 € |
| Dividends paid | 0,00 € |
| Dividends in portfolio | 0,00 € |
Result of exploitation
| | |
| --- | --- |
| Income | Value |
| Rental income | 17,932.97 € |
| | |
| --- | --- |
| Expenses | Value |
| Brickstarter Commision | 1,071.16 € |
| Management | 5,379.89 € |
| Supplies | 1.560,00 € |
| IBI | 281,50 € |
| Total expenses | 8.292,55 € |
| | |
| --- | --- |
| Other amounts | Value |
| Amortization | 145,20 € |
| | |
| --- | --- |
| RESULT OF EXPLOITATION | 9,495.22 € |
Net profit
| | |
| --- | --- |
| Concept | Value |
| Result before tax (Operating result + Financial result) | 9,495.22 € |
| Taxes | 1,424.28 € |
Investment information
| | |
| --- | --- |
| Concept | Value |
| Revaluation of the property | 20,00% |
| Current value of the property | 164,537.00 € |
Occupation
| | |
| --- | --- |
| Concept | Value |
| Number of reservations | 35 |
| Occupancy rate | 73,99% |
| Booked days | 270 |
| Available days | 85 |
| Blocked days | 10 |
| Average Daily Rate | 66.40 € |
| Estimated annual income | 17,932.97 € |
| Customer satisfaction rating | 90,00% |
| Number of guests | 338 |
Market study
For our second opportunity in Alicante we have chosen an apartment with similar characteristics to our first opportunity (Calle Mayor) that is giving us such good results. It is a one bedroom apartment and a bathroom, with a maximum capacity of 4 guests located in the Old Town of the city, ( the area most demanded by tourists). Once again, we have opted for the most demanded and most projected type of accommodation , as we will analyze later.
The apartment is located on Jorge Juan street just 100 meters from the Town Hall, 200 meters from Postiguet Beach, in the Old Town-Barrio Santacruz, the area most demanded by tourists to be close to the main points of interest from the city. This is undoubtedly the neighborhood with the highest influx of tourists and the least seasonality, since it is a very popular area throughout the year.
To estimate the main variables we have performed an analysis by location and typology, to predict the occupancy rates and average daily rate. As we have already mentioned, it is an area, and a type of property that we know perfectly because of our previous opportunity Calle Mayor.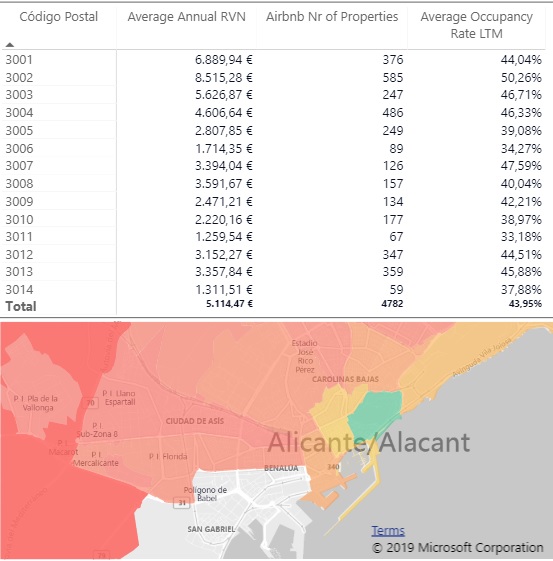 Returning to perform an analysis by zip code, we observe that the preferred areas are still the favorite areas are those located on the coast , specifically codes 03001 (Center) and 03002 (Old Town).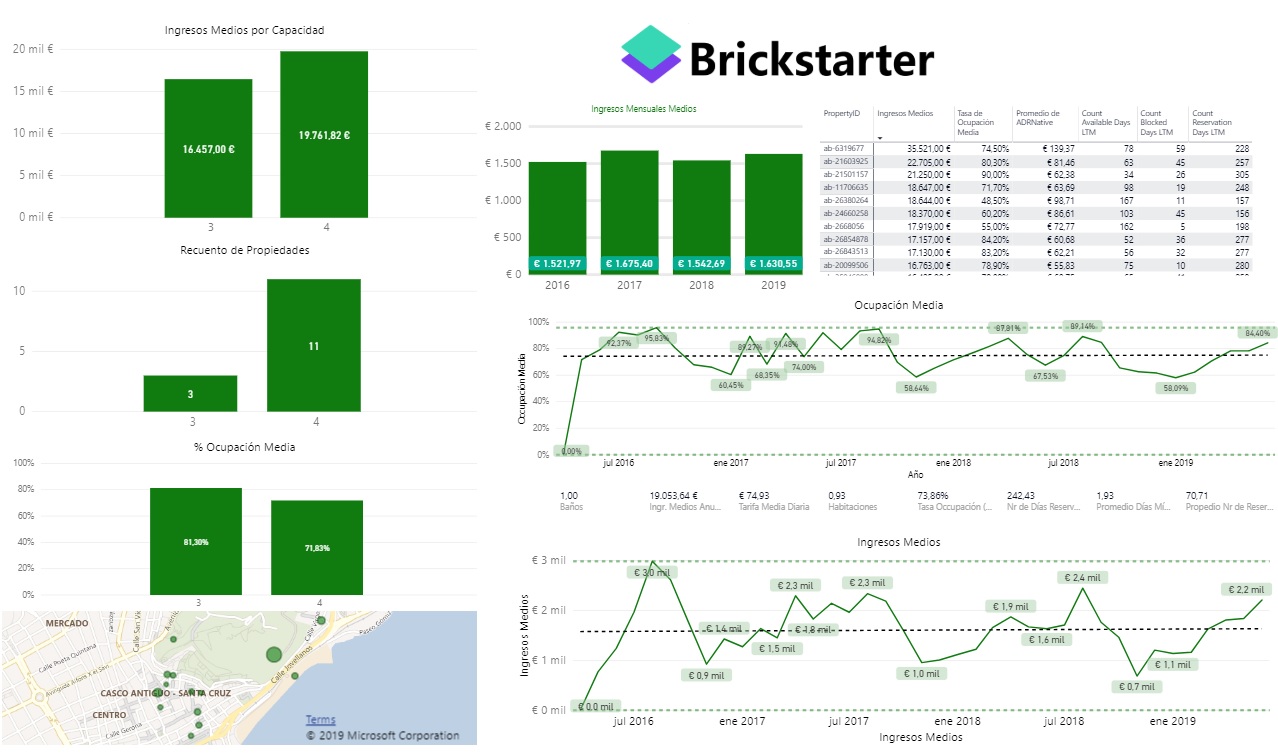 Among the 3 postal codes, we see that 03002 stands out in terms of average income and occupation. Something we already knew from previous studies, but that we see remains in 2019. As a sow, we will analyze the different evolution of the variables over time, with the aim of predicting their future behavior. It is important to pay close attention to this analysis, since the constant increase in supply can influence the trend of these variables.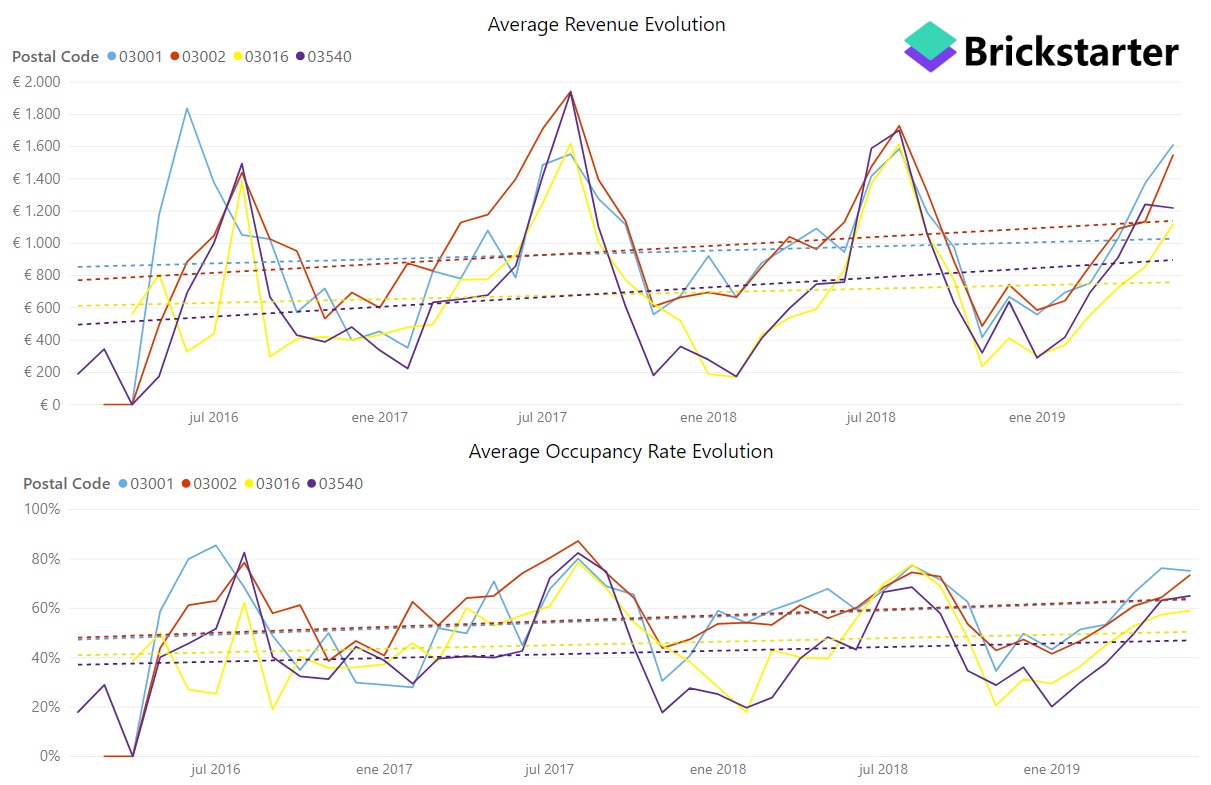 As we can see, it is the Casco Antiguo (03002), the neighborhood that presents a better evolution in the trend of the main occupancy and average income ratios. It also presents a better future projection of each of the variables.
In this way, a phenomenon similar to that of most provincial capitals occurs. It is the historic center, the most demanded area, the one with the highest income, the lowest seasonality, and above all the best projection.
Once the different postal codes have been analyzed, we will analyze the performance and projection of income by type of housing.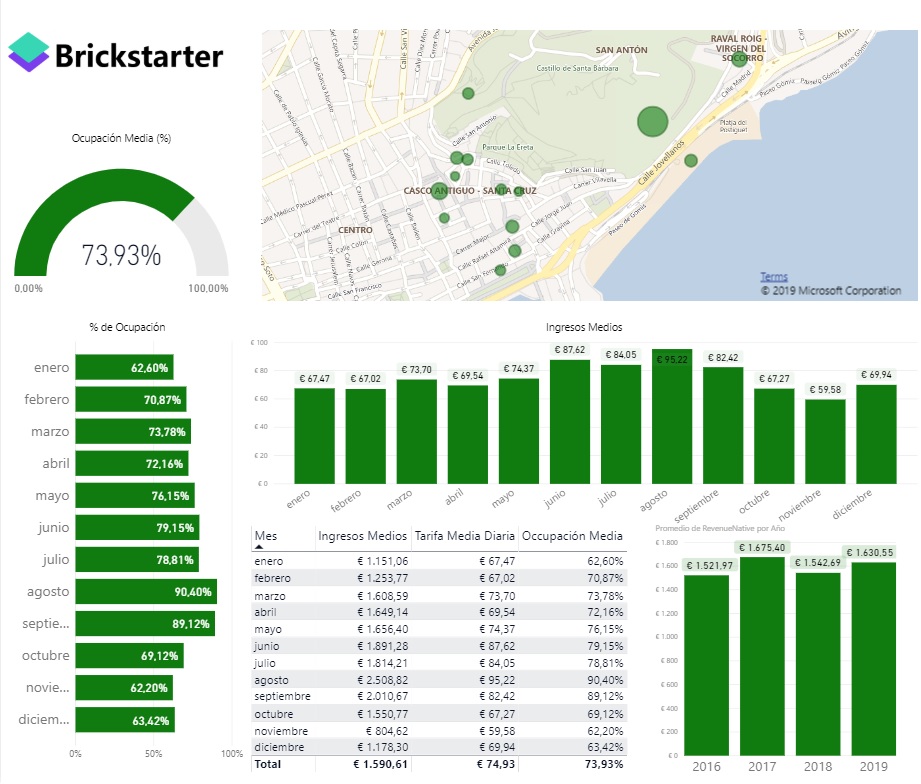 As we can see in the following graph, if we focus on the one-bedroom and one-bathroom apartments, with enough historical, we can observe how both the level of income and the average occupancy level remain high, with a slight increase in terms of Median monthly income over the previous year.
In this way we can expect income levels similar to those of our Calle Mayor opportunity, since it is located just 150 meters away, and has similar characteristics, despite being this apartment more spacious than the previous one.
Once the type of apartment with the greatest projection is defined, it is necessary to take a series of observations in order to make a forecast of the income. In that sense, and taking into account additional criteria, which not only take into account the type of property, but its management, we obtain the observations.
Project originated by: