Descripton
EvoEstate comment:
This is not a skin in the game project.
There is no data on ground floor apartments. So the exit can be in a very long time or the exit price may not pay for the BrickStarter fees. Though we believe that is safe to invest if you are happy with 4-5% rental return. We believe that profesional management can increase the revenues and valid license reduces risks.
We just believe there might not be capital appreciation.
* The rent (dividents) on this property starts to pay after the apartment renovation is completed and it is rented out on AirBnb and booking.com, therefore expect a delay of payments between 1-3 months.
Brickstarter: Why invest in this apartment?
Very High Profitability Rate (IRR) =9.71%: three properties in one (housing, garage and storage).

Very High Profitability Cash on Cash=6.36%: high monthly recurring income.

Ready to start making money: to take advantage of the whole season.

Very low legal uncertainty: it already has a tourist license and it's a grond floor.

Highly demanded typology: rising occupancy rates and incomes.

Apartment with garage: the apartment has a garage in the same building, a feature that is very hard to find in Malaga.
Information about the apartment
If you go for it, you can get it!
We were looking forward to another opportunity in Malaga and it has finally arrived.
Since the end of last year where we launched the Mitjana opportunity, we continued searching in this city, as it is one of the destinations that has grown the most in overnight stays in the first seven months of 2019.
This has meant a 49% growth over the same period of the previous year. The international market has accounted for 71.16% of overnight stays until July and 61.39% of tourists in general in the same period.
Because of the present and future figures being that positive and having verified it with our first opportunity, we have decided to launch a new opportunity in the center of Malaga just 100m away from the historic center.
It is an apartment with 1 bedroom and a bathroom, for 4 people, perfectly located near the Guadalmedina river. It is located in the neighborhood of La Trinidad, an area well known in Malaga for being the beginning of the "Holy Week" processions.
But the best feature of this property is that it has a garage and storage room, something very demanded by tourists, since when acquiring real estate in urban city centers it is always very difficult to find a parking lot.
Project summary
The apartment has a separate bedroom near the bathroom and a living room with kitchen when you enter. It is a semi-new building of recent construction that has a garage and storage room.
In addition, there are other reasons why the property is an excellent investment opportunity:
This house will have a great potential for revaluation, since it is an easily accessible ground floor and will comply with future legislative changes.
Having acquired the property with a garage, it will allow us to increase the rates per night compared to other similar apartments. There is a large amount of national tourism that travels with their own vehicle and this causes them discomfort when they reach the center of Malaga and discover that parking is very hard to find. Therefore, having a garage guarantees a plus of comfort and tranquility for the guests. This will make our building stand out above others that do not have this incentive.
The property is located in the center of Malaga, in the "Trinidad" district, a neighborhood well known for the beginning of all "Holy Week" processions. In addition, it is just 300m away from the "Tribuna de los Pobres" and 500m away from the Thyssen Museum.
This is a one-bedroom property with a bathroom, with a maximum capacity of 4 people. As we have seen in our market study, it is a highly demanded typology in Malaga, and it shows employment and income ratios with a clear upward trend.
Due to the exclusivity of the property, we expect some occupancy and income ratios above the average of other apartments with similar features and on the ground floor.
It has a tourist license and has been exploited on vacation but not professionally, so we hope to get more benefits than those obtained so far. It is almost ready for a tourist exploitation, we will only need to buy some utensils, bedding, etc. Once bought, the apartment will be ready to receive the first guests, and this will allow us to take advantage of the month of September and October that is not yet considered low season
Operation Summary
| | |
| --- | --- |
| Concept | Value |
| Purchase price of the property (including renovation) | 145.860,00 € |
| Mortgage | 0,00 € |
| Cost of initial works | 2.000,00 € |
| Taxes, paperwork and other initial legal costs | 0,00 € |
| Company Constituion and Registration | 0,00 € |
| Other property acquisition costs | 7.000,00 € |
| Other expanses | 0,00 € |
| Minimum cash | 600,00 € |
| Brickstarter Fees (Only purchase) | 11.242,84 € |
| TOTAL | 166.702,84 € |
| | |
| --- | --- |
| Concept | Value |
| Yearly rent income | 19.727,42 € |
| Amount to be received for the sale | 191.708,26 € |
| Gross Margin (Sale Price - Purchase Price) | 15% |
Financial information


The data shown in this section is a one year forecast after the property purchase.
Dividends
| | |
| --- | --- |
| Concept | Value |
| Total dividends accrued | 0,00 € |
| Dividends paid | 0,00 € |
| Dividends in portfolio | 0,00 € |
Operating return
| | |
| --- | --- |
| Income | Value |
| Rental income | 19.727,42 € |
| | |
| --- | --- |
| Expenses | Value |
| Brickstarter Commision | 1.196,77 € |
| Management | 5.918,23 € |
| Supplies | 1.560,00 € |
| Annual Property Tax | 281,50 € |
| Total expenses | 8.956,50 € |
| | |
| --- | --- |
| Other amounts | Value |
| Amortization | 171,60 € |
| | |
| --- | --- |
| OPERATING RETURN | 10.599,33 € |
Net profit
| | |
| --- | --- |
| Concept | Value |
| Result before tax (Operating result + Financial result) | 10.599,33 € |
| Taxes | 1.589,90 € |
Investment information
| | |
| --- | --- |
| Concept | Value |
| Revaluation of the property | 15,00% |
| Current value of the property | 166.702,84 € |
Occupation
| | |
| --- | --- |
| Concept | Value |
| Number of reservations | 59 |
| Occupancy rate | 64,35% |
| Booked days | 235 |
| Available days | 120 |
| Blocked days | 10 |
| Average Daily Rate | 78,51 € |
| Estimated annual income | 19.727,42 € |
| Customer satisfaction rating | 90,00% |
| Number of guests | 294 |
Market study
We return to Malaga! We have had to search a lot to find an opportunity like this.
In addition to being a multipurpose apartment, of the type that we like most for the Malaga market, a room and a bathroom, what will most define its performance are mainly two variables.
First, we have to highlight its location. Being just 200 meters away from the "Tribuna de los Pobres", our guests can leave the car in the parking lot and visit both the city center and the Malagueta Beach just walking.
Secondly, we have to highlight the fact that it has a garage space in the same building, and that we acquired together with the property (valued at 18,684 euros). This fact will be very differentiating since very few apartments are advertised with parking lot, and when they do, this is usually in another location and not in the same property. (A storage room was also acquired, but it is not that relevant for market research)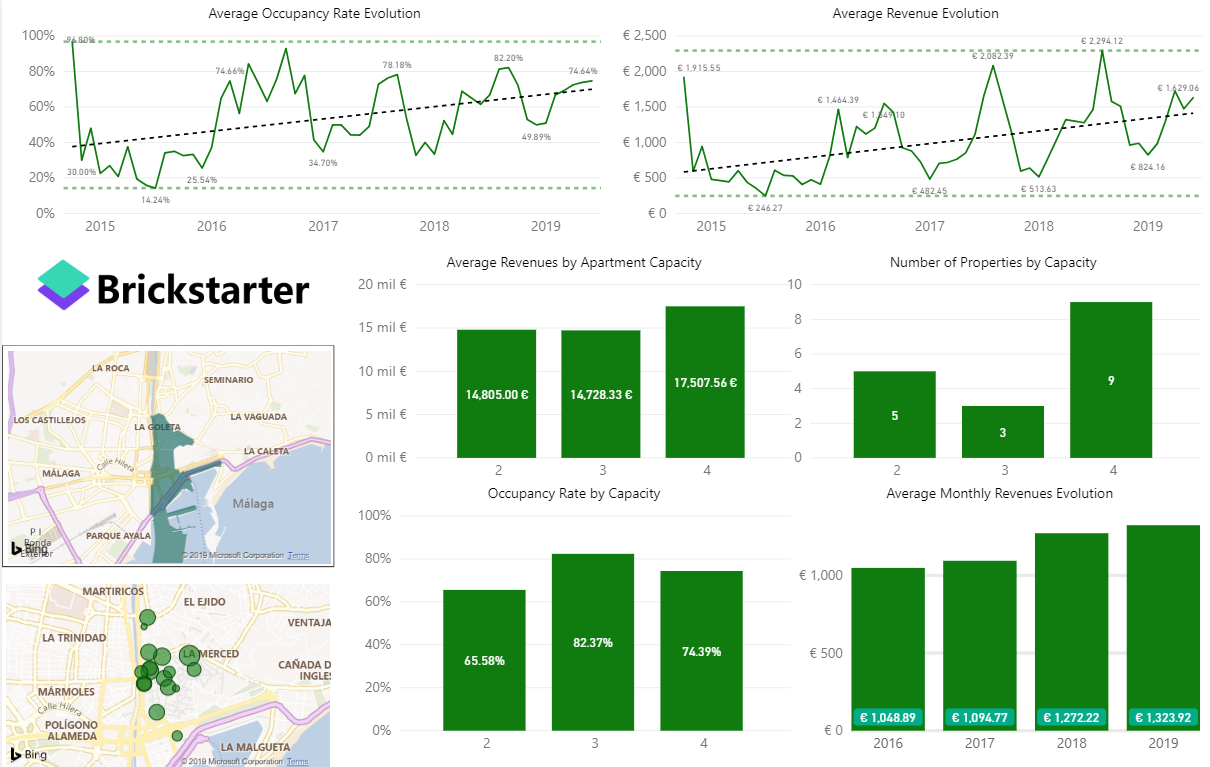 If we take into account these two variables, we observe how the number of comparable apartments is drastically reduced.
As we can see in Graph 1, we have selected apartments with garage and same features. In this sense we can see a strong trend both in occupancy rates and in average income. If we take the aggregate data, we can see how the average income annually continues to grow in 2019.
Guests demand better places every year and value all additional services, always leaning towards real estate that includes services such as breakfast included, garage, bicycle rental, etc ...
Regarding the temporality of tourism, we see in the Graph 2 that investing in this apartment will lead to high income ratios during the whole year, being even better during the summer season.
In short, we are facing an excellent investment opportunity, not only for the acquisition price, but for its location, typology, and for including a parking lot that will allow us to differentiate ourselves from the other properties.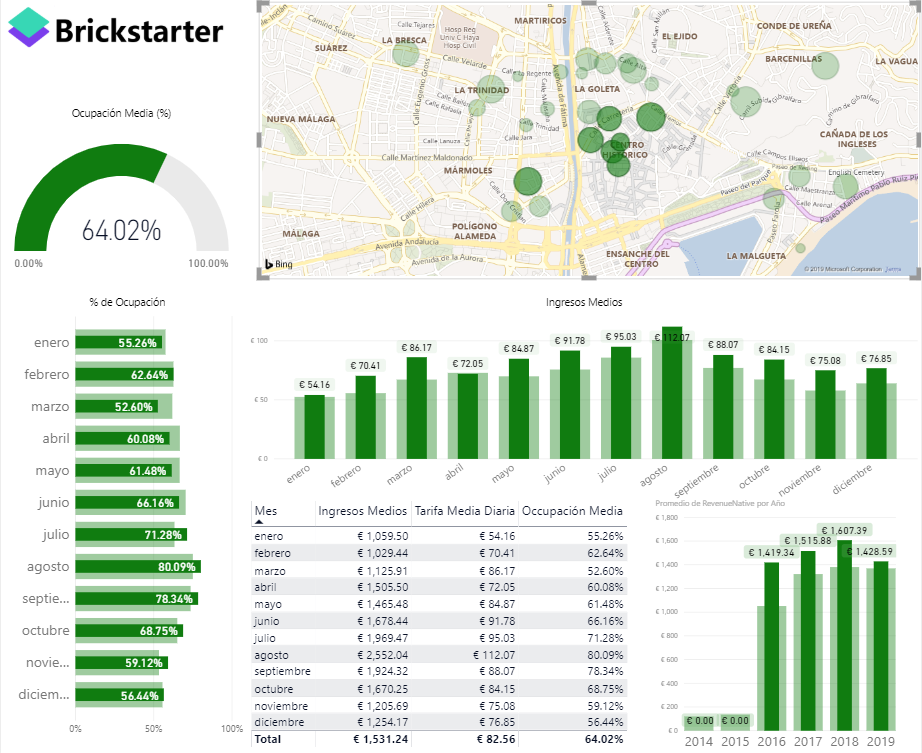 Documentation