EvoEstate merges with InRento to offer even better investment opportunities
Audrius Visniauskas February 02, 2022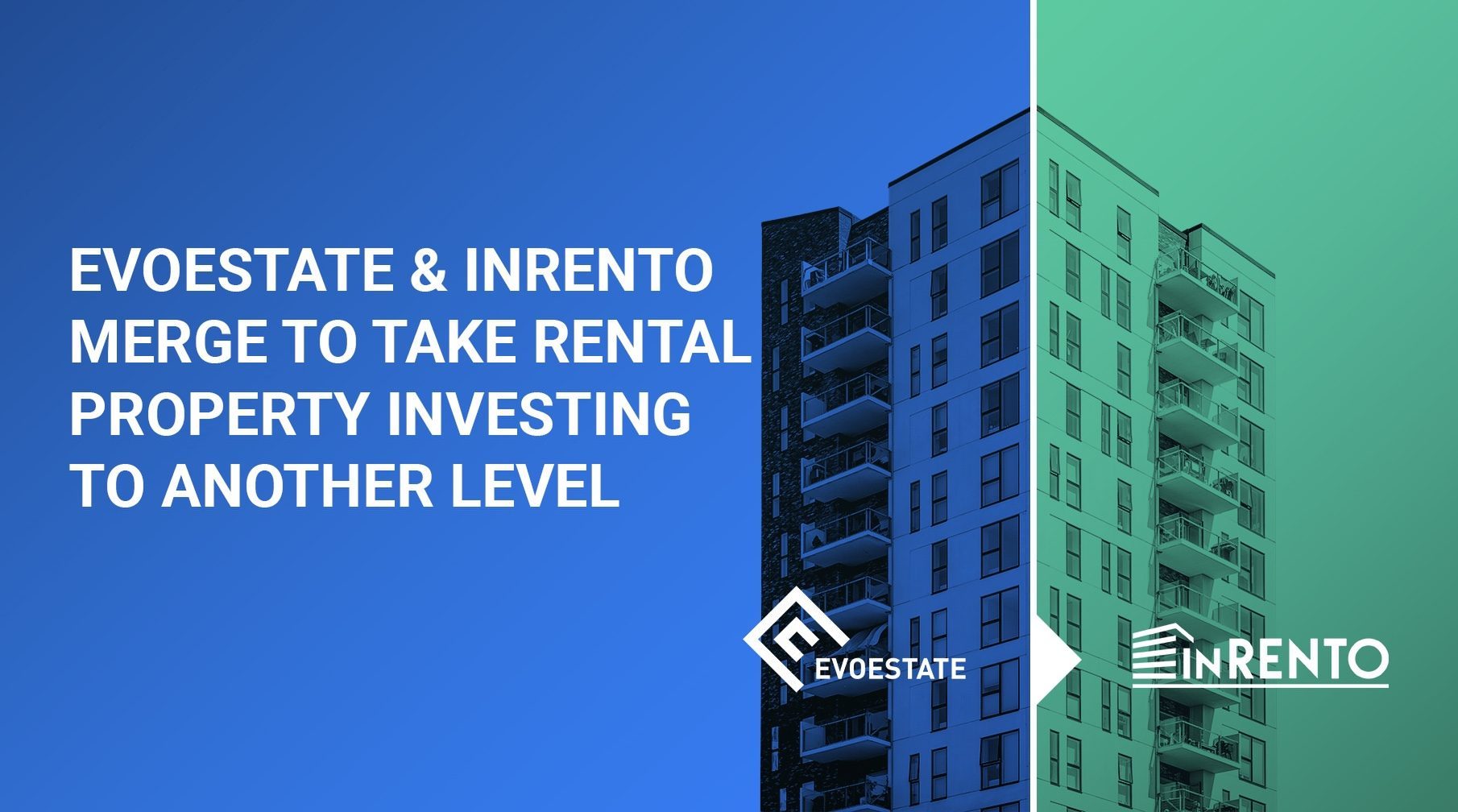 Dear Investor,
We aim to offer the best investment opportunities to our clients. Therefore, we have decided to make a big step forward and merge EvoEstate with InRento to create the biggest licensed rental properties investment platform in Europe. EvoEstate will be merged and will further operate under the name of InRento.
"We started EvoEstate with the foundation of putting our investors' interest first and to back our claims, the company founders invested alongside the clients in the investments we offered. As you may have noticed there were fewer and fewer Skin in the game projects and my personal portfolio was mainly built with InRento projects where I see a good risk/reward ratio, consistency and stability - the features that I look for in real estate investment platforms. I approached the merger position with honesty. Today I feel that the merger of EvoEstate and InRento will contribute greatly to improving the way people invest in Real Estate, at last, that was always my personal goal - to make the investment in Real Estate better and convenient."

Audrius Višniauskas
CEO at EvoEstate
As a result of this merger, EvoEstate's investors will benefit in 5 ways. But before getting to that, let us remind you why we are here.
Putting our strengths together
EvoEstate is a real estate crowdfunding aggregator with a focus on investors.
InRento is the first licensed buy-to-let crowdfunding platform in Europe. Read more about InRento's last year's sprint here.
Both platforms actively contribute to innovative investment solutions and share a core value of representing investors' interests first.
Benefits for Evo investors
Everyone owning an EvoEstate account on this date will get the best investing conditions on InRento ever:
Licensed and regulated


Services of InRento are licensed and regulated by the Bank of Lithuania.

More information can be found here.

This means that InRento services must comply with the strict regulations related to the assessment of project owners, security of the funds of the investor, and moreover.

Personal bank account owned by you - safer payments' facilitation process


As an outcome of the merger, we will reorganise the payment facilitation process and will ask the client to open a personal bank account with one of our payment facilitation partners - Paysera or Mangopay (for more please read below). All future interest and principal repayments will be paid out directly to that account.

Smaller minimum ticket


Although the minimum investment size on InRento is 500 EUR, EvoEstate's users will exclusively be able to invest from 100 EUR in loans offered on the platform.

Cash-back


All EvoEstate's users will also benefit from cashback: 1.5% - 1st year; 1% - 2nd year; 0.5% - 3rd year (it will be paid out in 5 weeks after the loan is fully funded) investing on InRento's primary market.

0 Secondary Market fees


Investors will be able to trade all past investments on EvoEstate's Secondary Market with 0 fees. Secondary market fees for all past investments are gone. (New investments carried out on InRento will have a regular 2% transaction fee.)
More benefits of the rapidly growing platform
Feel like a landlord just without hassle. InRento connects experienced real estate project owners with investors. As a result, investors don't have to worry about day-to-day management at all.
Capital growth. Capital growth is what makes InRento unique. In addition to monthly interest payouts, capital growth is distributed to investors when the property is sold at a higher price.
Risk management. All investments are secured with 1st-rank mortgages. Additionally, in most cases, the interest rate that is being paid by the borrower never exceeds the rental income which reduces the borrower's default risk.
Timeshare. Timeshare is another innovation offered by InRento in Europe. It is the possibility to stay in the property you have invested in (available only for buy-to-let projects in Spain now).
Timeline of the merger
- 2nd February: 1st notification about the merger.
- 7th February: "Ask Us Anything" webinar with the CEOs of EvoEstate and InRento.
- 14th February: 2nd notification about the merger.
- 1st March: completion of the first stage of the merger.
- 24 months after: termination of the activities of EvoEstate. EvoEstate will be merged to InRento.
What happens next?
Starting from today no new investment opportunities will be launched on EvoEstate's primary market besides investment projects that are listed by InRento. All your existing investments will continue to be administered by EvoEstate and accessible through your existing EvoEstate account.
As a part of the merger, your personal data processed and controlled by EvoEstate will be migrated to InRento. This means that EvoEstate will share your personal data with InRento and InRento will become the controller of your personal data. No personal data will be transferred outside of the European Union. Your personal data transferred to InRento will be managed following General Data Protection Regulation and other applicable laws to ensure the highest security of your personal data. You can make yourself familiar with the Privacy Policy of InRento here.
As a part of the planned merger, you will be opened with an InRento account that will ensure better customer experience in the future. Your new InRento account will provide with all the information related to the payouts to you that were executed after the completion of the initial stage of the merger. Step by step we will also migrate all the functionality of EvoEstate account to your new InRento account.
You will be able to execute the new investments to InRento projects directly through InRento account. Every time you invest within the next 2 months, the cash-back will be credited directly to your newly opened investment account.
To ensure a safer funds facilitation scheme, the funds payout process will be upgraded and You will be asked to open a personal payment account with one of the payment service providers we are partnering with - Paysera or MANGOPAY. This will be your personal bank account that will be linked to your InRento account. This new functionality will allow you to receive principal and interest payments from the project owner straightaway to your personal account without any other additional steps needed from your side.
From March 2nd, all the funds that are currently credited to your EvoEstate account and/ or will be received in the future from the return payments and/ or interest payments will be credited into your new account opened with the payment service provider as was defined above. This account will also be used to invest in new InRento investment opportunities.
EvoEstate' secondary market will continue to operate as it has before, the key difference is that no transaction fees will be applied. There will be a change in how secondary market transactions are handled after the completion of the merger.
More information will follow.
Unhappy for any reason?
We are confident that the migration process will go smoothly, and there will be minimal disruption to our services. If for any reason you are not happy with these changes, you can stay with the existing EvoEstate payout scheme, however, additional fees related to the processing of payments might apply.
If we will not hear from you till day February 24th, we understand that silence from your side means consent and based on this consent will transfer your personal data from EvoEstate to InRento and we will migrate you to the new payment facilitation process as was defined above. Based on this silent consent we will open a new account with InRento. You can make yourself familiar with the Terms & Conditions of InRento here.

If you have any questions related to management of your personal data or your consent, please contact info@evoestate.com, with an email title "Personal data"

For the opening of the account with one of our payment facilitator partners, additional data and documents might be asked for implementation of the "Know-your-customer" process.
Webinar: Ask Us Anything
You might have some questions and we want to answer them. We invite you to a webinar to present this merger in more detail. Personally, me and the CEO of InRento, Gustas Germanavicius, will host the webinar and answer your questions
When? 7th February 2022
Time:4-6 PM EET
Event link: https://us02web.zoom.us/j/82690169615
Meet you all at the webinar next week,
Audrius Višniauskas
CEO of EvoEstate
News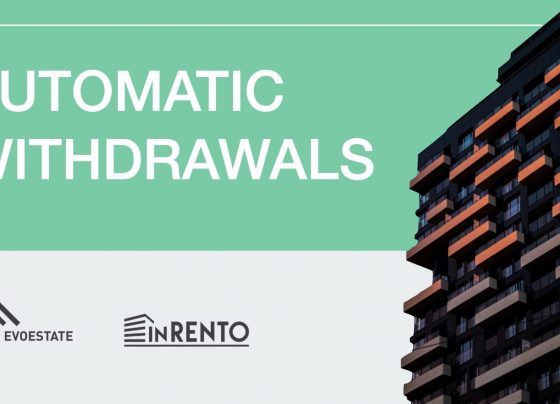 Quarterly
updates