Evo Investors 20' Q3 Update

Gustas Germanavičius October 08, 2020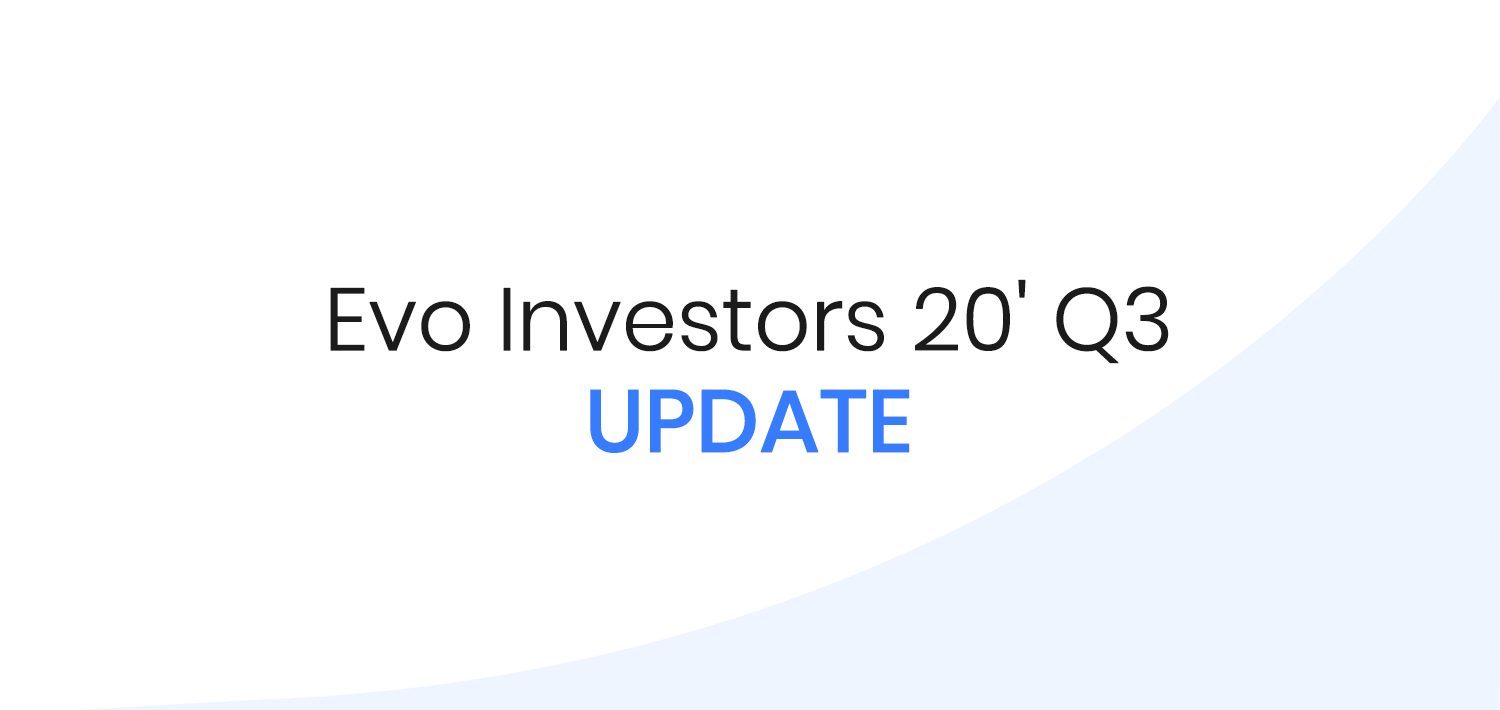 Dear Evo Investors,

When I was writing the last quarter's update, the market was just beginning to come back to the pace compared before the lockdown in terms of the number of investment opportunities. The last quarter the numbers seem to have come back to the count it was prior to Covid-19 or even increased. In fact, in August, some of them recorded their all-time highs. Unsurprisingly, all of those platforms were Baltic-based.
There are a few main reasons for that. First of all, the Baltic countries have reported low numbers of COVID-19 cases. Secondly, the quality of loans and underwriting standards have improved. We've also discovered that those platforms received more queries for financing than prior to COVID-19. Many of the borrowers used alternative financing just to feel safe and raise relatively small amounts.
The long-term effect on the European property market is yet to be seen. But due to intensive quantitative easing, the outcome of the projects is not indicating a significant downturn on residential properties. However, investors shouldn't get too excited, because the European Investment Bank is distributing low-interest credit lines to non-banking lenders who are likely to venture into the real estate financing market. This will ignite competition between the platforms and non-banking lenders. The 2020' Q3 Evo Investors update will overview repaid project's, our company's growth and upcoming features in a very close term.

Repaid projects
In the third quarter of 2020, 10 projects were repaid, out of which 9 had full principal repayment and 1 partial. One project that was late to repay the principal - Duplex apartment development in Tallinn's tech hub was fully repaid in September.
The best performing investment during this quarter was done by Lars from Passives Einkommen mit P2P in 29 IN Fase 3 project. The project yielded 14.73%, but Lars managed to earn 130% XIRR. You may wonder how, the answer is simple, he acquired the investment with a 15% discount on the Secondary Market in April. Therefore when the project was repaid he received all compounded interest + earned an additional 15% on the principal profits, whereas the total annualized ROI resulted in 130%.

During the Q3 average XIRR for the repaid projects stood at 12.9%, while the historical XIRR for repaid projects is standing at 12.72% from 27 projects based in 6 countries.

Updated portfolio layout
On August, we have launched updated portfolio overview, which now provides more statistics, including current, late loan statuses. Now, XIRR, Originators' fees and interest earnings are easier to see.
Live chat
During the last quarter, we have only launched one new feature from the investors' side and it's a live chat, which can be found on each page bottom right corner.
Updated risk scoring
Last quarter we have introduced a new feature called project's risk scoring. We have been working throughout the 3rd quarter to improve it and we are expecting to making the new version available to new investors in the coming weeks.
We have also recruited Chris Kanwei to serve as an advisor to EvoEstate. Chris is a Managing Director at RealCorp Capital based in London. He has managed and advised on real estate investments in excess of £10 billion across EMEA.
Chris has held senior roles in commercial real estate finance across major financial institutions including Aviva, Morgan Stanley, AIB and NAMA. He has extensive experience in real estate debt and equity investments, portfolio loan sales, non-performing loan (NPL) advisory and underwriting, portfolio management, credit risk and loan workout, loan servicing platforms, real estate development finance, and corporate & commercial banking.
He is a member of several professional bodies including CIMA UK, CPA (Australia), RICS UK, Chartered Institute for Securities and Investments, UK, and The Chartered Banker Institute (UK). He is also a regular speaker at major European investment forums.

New UX/UI of the platform
Up until now, we haven't given too much focus on the interface on the platform, as our goal was to build the product features in a fast, but secure way. Now our focus is to improve the investors' experience and we are expecting to launch the updated interface during the months of November and December. As we are currently finalising the design drafts, now it's a great time to hear about any missing product features that you would like to have them on EvoEstate. If you have any recommendations on what you would like to see, please do not hesitate to suggest them to me personally at gustas@evoestate.com.

Worth reading

Together with our team, we have prepared 2 reports, which we believe can increase your knowledge about RE investing:
European Real Estate Market Overview Report
In this report, you will find information about how the real estate market has changed in the last years in 6 European countries. You will also find how did COVID-19 impact different European real estate markets.
Real Estate Investment Types of 2020 Report
Overlooks European Real Estate crowdfunding market and provides comprehensive comparison between RE crowdfunding and other RE related financial instruments.
International media appearances

Estonian fintech EvoEstate raises €320K to grow its next-gen investment platform globally - EU-Startups.
Emerging Europe Talks real estate crowdfunding with Gustas Germanavičius - Podcast with Emerging Europe.
EvoEstate was invited to participate in 2020 Fintech Forum in Frankfurt Germany, following this link, you can find a short interview with me.
The State of European Real Estate Crowdfunding in The COVID-19 Era - with Finsmes.
Final notes
We are launching a contest for investors which will run until the end of 2020!

Terms: Invite at least 5 friends between October 8th and December 31st. There are 5 winning places for this contest and we will select the winners based on the total amount invested by you and your invited friends. Shortly after the contest, we will reach out to the winners with questions regarding the shipping address and the size of the hoodie. *This contest does not apply to affiliates or bloggers.
Prize: EvoEstate's team hoody.

More than everything we care about your experiences using our platform and we would like to hear both positive and negative feedback. You can rate us on Trustpilot, comment under this blogpost or simply send us an email. Lastly, we invite you to join Evo Investors Telegram group.

Yours truly,
Gustas